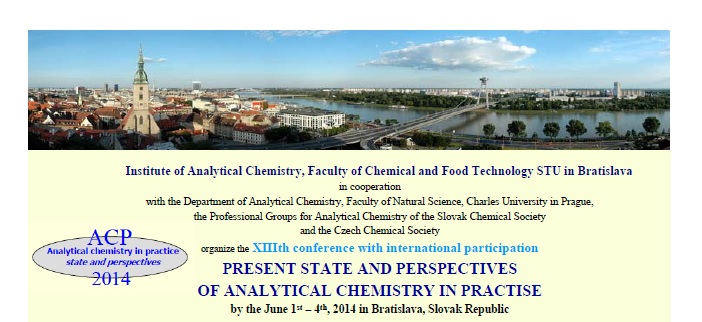 CHAIRMAN
Prof. Ing. Ján Labuda, DrSc.
CONFERENCE ORIENTATION
The aim of the conference is to provide news in trends of analytical methods and instrumentation as well as in evaluation of analytical chemical measurement results. The conference is a place to share experiences of researchers in different areas of analytical testing at universities and research laboratories. ACP 2014 is a tool to increase the qualification of research staff of analytical laboratories, particularly accreditated testing laboratories, in Slovakia and neighbouring countries.
KEY DATES
registration (by e-mail/fax) till March 15th, 2014
abstract submission (by e-mail) till March 15th, 2014
deadline for payments till April 20th, 2014
arrival of participants since June 1st, 2014
More details:
Circular:
http://www.chtf.stuba.sk/ACP/ACP2014_circular.pdf
Contact: svetlana.hrouzkova@stuba.sk