Research activities of the department originate in several research groups with various research topics:
Laboratory of Functional Organic Molecules NB A501 (Róbert Fischer, PhD., Lukáš Ďurina, PhD.)
Laboratory of New Antibiotics NB A304 and A403 (assoc. prof. Pavol Jakubec, PhD., assoc. prof. Dušan Berkeš, CSc., Oľga Caletková, PhD.)
Laboratory of Natural Compounds NB A401 (prof. Tibor Gracza, DrSc., Peter Koóš, PhD., Martin Markovič, PhD.)
Laboratory of Assymetric Synthesis of Alcaloid Analogues NB A405 (prof. Štefan Marchalín, DrSc., assoc. prof. Peter Šafář, CSc.)
Laboratory of Synthetic Fragrances NB A305 (assoc. prof. Peter Szolcsányi, PhD.)
Laboratóry of Heterocyclic Chemistry NB A402 a A404 (prof. Viktor Milata, DrSc., Dušan Bortňák, PhD.)
Remote Laboratory of ÚOChKP FCHPT STU by Saneca Pharmaceuticals, a.s. Hlohovec (assoc. prof. Dušan Berkeš, CSc.)
Laboratory of Functional Organic Molecules NB (A501, 502)
is investigating new preparation methods of N,O-heterocycles with multipotent synthetic applications and their applications in medicinal chemistry, new preparations of natural compounds and their synthetic derivatives, and new synthetic materials with special magnetic and optoelectronic properties.
Contact persons:
Róbert Fischer, PhD. (robert.fischer[at]stuba.sk)
Lukáš Ďurina, PhD. (durina.lukas[at]gmail.com)
Synthesis of pyrollizidine a pyrollidine alkaloids and their cytostatic profiles:
Project characteristics: biological properties of natural compounds: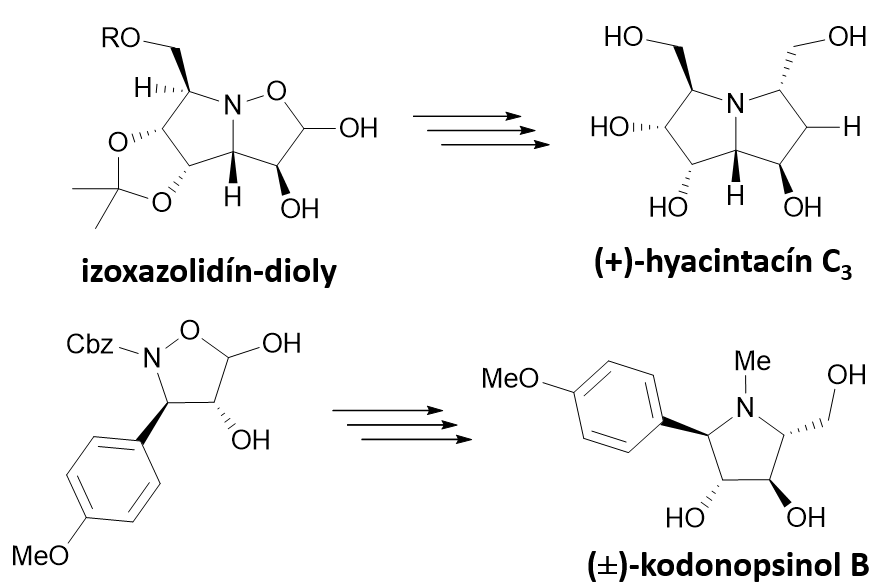 Hyacintacins are natural pyrollizidine alkalois isolated from Hyacinthaceae plants (up to now ca 25 compounds), which generally inhibit mammal glycosidases, and are considered as promissing natural leads for design of new drugs for oncologic diagnoses, diabetes, and various viral and bacterial infections.
Codonopsinol B is natural pyrollidine alkaloid isolated from Codonopsis pilosula, whose mashed root is classical component in Chinese and Japanese native medicine. Codonopsinol B inhibits human glycosidases, and it is expected as active compound responsible for known healing effects of those herbal preparatives.
Current results: we have synthetised natural alkaloid (+)-hyacintacine C3 and racemic codonopsinol B. We have tested them on human cancer cell lines U87-MG (brain tumor), HepG2 (liver tumor) a JEG-3 (placental cells) a MOLM-13 (leukemic cell line). Neither (+)-hyacintacine C3 nor (±)-codonopsinol B did suppress the proliferation of tested cell lines, most likely due to insufficient membrane permeability caused by high hydrophility.
Forthcoming goals: improving the membrane permeability of new C3 and codonopsinol B analogues through introducing pharmacophore-intact lipophilic residues to the structure.
Structural analogues of psammaplysins – synthesis and biological profile of simplified spiro-isoxazolines
Project characteristics: new pharmaceuticals derived from natual compounds
Psammaplysins are bioactive alkaloids isolated from marine sponges Verongida. Their structure comprises two main blocks: spiroxepinisoxazoline part, and moloka'iamine part, connected through an amidic bond. Psammaplysins possess broad spectrum of pharmacologic properties, including cytostatic, antiviral, antibiotic, antimalaric and antioxidative. It is likely, that the spiroxepinisoxazoline system is responsible for the recognised cytotoxic activity, and shall be used as a lead for design of new cytotostatic drugs.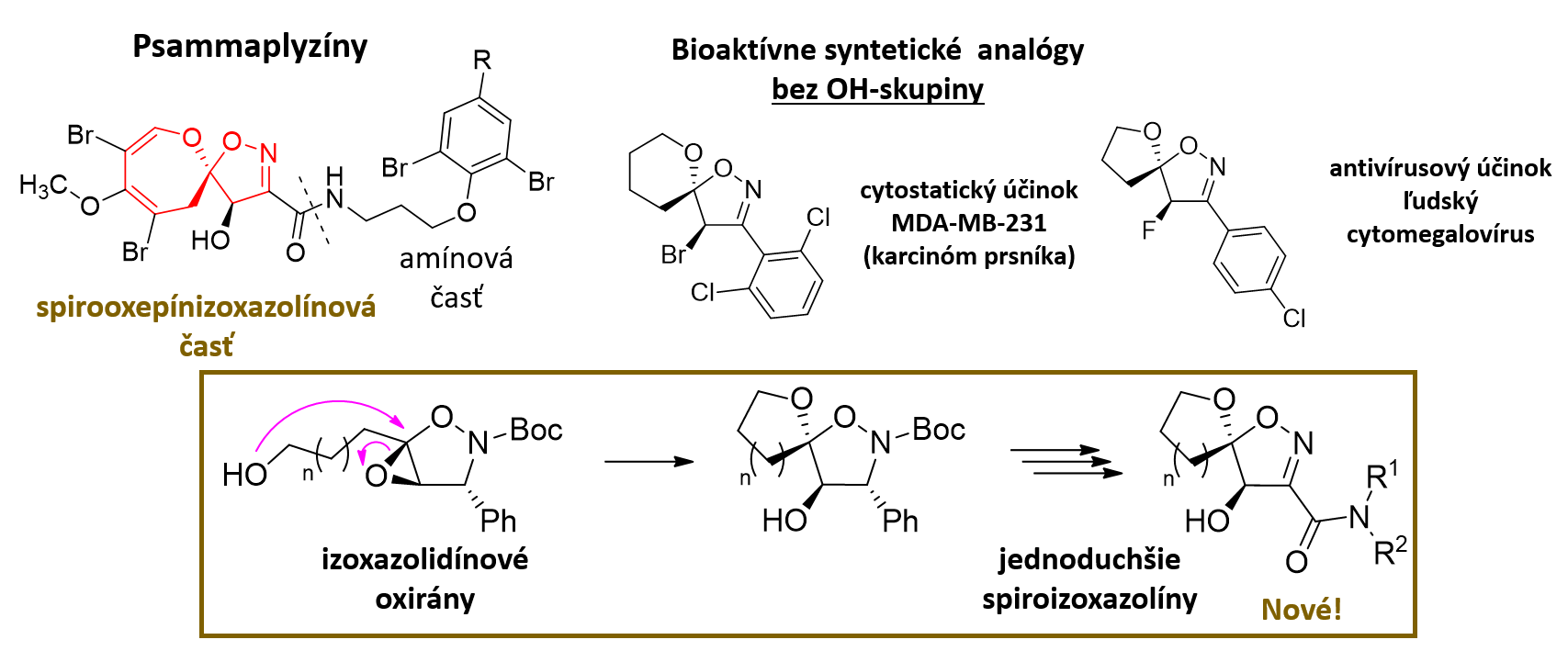 The project includes the development of new synthetic methods for the preparation of hydroxylated spiro-isoxazolines as new simplified analogues of natural psammaplysins. Newly synthetised targets will be immediately tested fir antiviral, anticancer and antibiotic activity.
Design and synthesis of new photoisomerisable arylazopyridines
Project characteristics: photoswitchable aza-conjugates of heterocycles for technical applications in new photosensitive materials and nanostructures
Photoisomerisation is a photochemical process of conformational change caused by light or UV radiation in exposed chemical, which results in changes of physical and photochemical properties. Compounds with such capacity are called photoswitches. N=N double bond of arylazopyridines exists in two isomeric forms: E (trans), and Z (cis), which can be switched by UV-VIS radiation. Photoswitches represent new class of functional molecules with applications in nanotechnology, optoelectronics or in photopharmacology – change of drug activity due to (E)↔(Z) isomerisation of N=N bond, caused by local light exposure.

The project involves syntheses of bi-, and tridentate benzimidazo-, benzoxazo-, and benzthiazo-substituted arylazopyridins, which will be further used for preparation of transition metal complexes. Those complexes will be studied by means of affecting their magnetic states through photoswitching.
Another goal of the project is to design and synthetise arylazopyridine linkers as a part of pharmaceutical polymers as drug carriers, affected or moderated by light exposure.
Current and former project members (year of graduation, current position)
Hyacintacin C3
Lívia Dikošová, PhD. (2021), researcher, Synkola, s.r.o.
Mária Zajičková, PhD. (2019), teacher, Faculty of pharmacy, Comenius University
Barbora Otočková (2019), analytical chemist, Saneca Pharmaceuticals, a.s.
Tomáš Malatinský, PhD. (2018), researcher, FCHPT
Zsófia Puhová (2017), research, Slovnaft, a.s.
Codonopsinol B
Lukáš Ďurina, PhD. (2022), teacher, FCHPT STU
Ondrej Záborský, PhD. (2016), research, Synkola, s.r.o.
Spiro-isoxazolins
Radka Štadániová, PhD. (2021), NMR chemist, FCHPT STU
Lukáš Kerti (2021), PhD. student, FU Berlin
Michal Sahulčík, (2019), production chemist, Biosynth Slovensko s.r.o.
Stanislava Berzáková (2022), student, FCHPT STU
Arylazopyridins
Jakub Orvoš (2019), PhD student, FCHPT STU
Adam Nemčovič (2021), student, FCHPT STU
Cooperations:
Pharmaceutical faculty in Hradec Králové – biological tests (prof. Trejtnar); Biomedical centre of SAV – biological tests (Dr. Messingerová); OACH FCHPT – metal complexes of arylazopyridins (assoc. prof. Šalitroš); Institute of polymers, SAV – pharmaceutical polymers (Dr. Kronek); OACH FCHPT – X-ray analyses (prof. Moncoľ); Central laboratories FCHPT – NMR analyses; Institute of Chemistry, SAV – HRMS and other analyses of products.
Our score in teaching:
18 diploma theses (2012-2021); 7 PhD. theses (2014-2022) of succesfully graduated students; 2 x 1. place; 1 x 2. place; 5 x 3. place in student scientific contest at FCHPT STU.
Laboratory of Natural Compound Chemistry NB A401
is interested in synthesis of selected natural compound with biomedicinal importance, and development of new synthetic methods for construction of complex and bioactive compounds. Total synthesis, dominantly based on new methodology of palladium (II)-catalysed cyclisations of unsaturated polyols and aminoalcohols.
Contacts:
Prof. Tibor Gracza, DrSc. (tibor.gracza[at]stuba.sk)
Peter Koóš, PhD. (peter.koos[at]stuba.sk)
Martin Markovič, PhD. (martin.markovic[at]stuba.sk)
Total syntheses of biorelevant molecules using Pd-catalysed carbonylation and/or C-H activation as a key step
Carbon monoxide is generated in situ from in-house developed CO surrogates.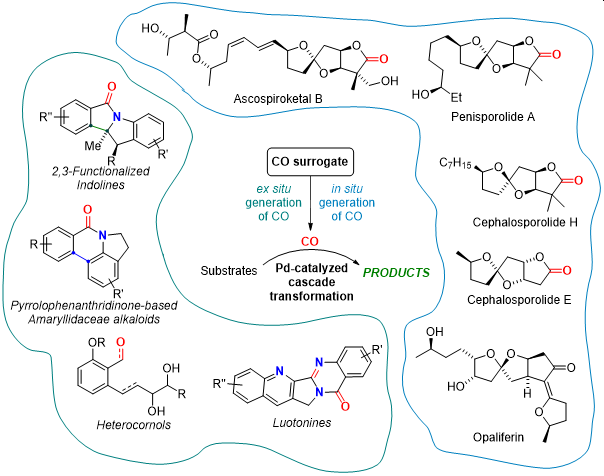 Enabling technologies in organic synthesis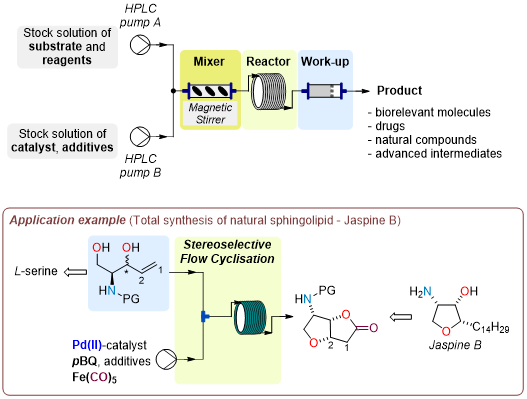 Preparation of target molecules using continuous flow processes
Group alumni and their current career:
Ľuboš Remeň PhD., head of research, Indorsia, CH
assoc. prof. Peter Szolcsányi PhD., teacher, FCHPT STU
Matej Babjak PhD., teacher, FCHPT STU
Peter Kapitán PhD., synthetic chemist, Leoni s.r.o.
Peter Koóš PhD., teacher, FCHPT STU
Jana Doháňošová-Nováčiková PhD., NMR chemist, FCHPT STU
Oľga Karlubíková-Caletková PhD., teacher, FCHPT STU
Miroslav Palík PhD., research chemist, Saneca a.s.
Martin Markovič PhD., teacher, FCHPT STU
Beáta Kandriková-Slatkovská PhD., patent chemist, Henkel Slovensko
Pavol Lopatka PhD., researcher, FCHPT STU
Tomáš Čarný PhD., researcher, PriF UK


Cooperations:
Indorsia, Switzerland; Georganics, Slovakia; Institute of Chemistry, SAV, Czech Academy of Sciences; University of Cambridge
Laboratory of asymmetric synthesis of alkaloid analogues NB A405
concerns preparations of unnatural epimers and structurally modified indolizidine and chinolizidine alkaloids. Starting from cheap and trivial materials (e.g. L-glutamic acid and 2-furaldehyde), easily and sustainably available from natural materials, we can prepare various reactive tricyclic furoindolizidines, containing up to five reaction centres, suitable for further chemical diversifications. Those tricyclic intermediates can be then used as key building blocks for rational syntheses of new polyhydrolylated furoindoliasidines with variable amount of stereogenic centres and attractive biological activities.
Contacts:
Prof. Štefan Marchalín, DrSc. (stefan.marchalin[at]stuba.sk)
Assoc. prof. Peter Šafář, PhD. (peter.safar[at]stuba.sk)
Synthesis of polyhydroxylated indolizidine alkaloid analogues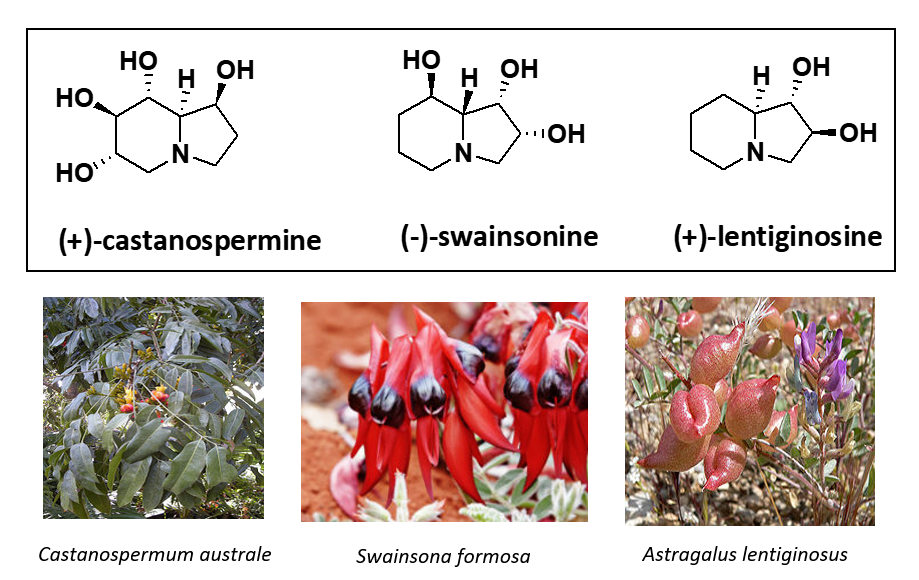 natural alkaloids with indolizidine structural motif (A)
they are often mimicking saccharides and act as capable inhibitors of glycosidases
anti-glycoidase activity results then in multiple biological activity: anticancer, antimetasthatic, antiproliferative or antiviral.
We design and synthetize new analogues of indolizidine alkaloids with presumed therapeutic potential.
RECENT PROJECT: preparation of new derivatives of polyhydroxylated indolizidines through opening of tetrahydrofurane cycle
our group had developed generic method for a synthesis of tricyclic indolizidine skeleton from cheap and broadly available L-glutamic acid and 2-furanecarbaldehyde
New indolizidines can be prepared, varying in amount, position and absolute configuration of hydroxy-groups, employing several methods of THF-ring opening.

Research group members: Assoc. prof. Peter Šafař, PhD., Paula Fraňová, Petra Pažitná, Martina Hrušková.
Laboratory of new antibiotics NB A304
is interested in design and synthesis of new antibiotics active against bacterial pathogens, particularly against MRSA (multidrug-resistant S. aureus). New antimicrobial derivatives are synthetised and isolated with use of recent knowledge and techniques of organic chemistry and modern photochemistry. During this initial phase of brand-name drug development our students come across all relevant separation and analytical techniques as well as with basic antimicrobial testing assays. Students skilled in state-of-art organic synthesis and medicinal chemistry are getting ready for successful carreer in commercial drug research, development and production.
Contact persons:
Assoc. prof. Dušan Berkeš, DrSc. (dusan.berkes[at]stuba.sk)
Assoc. prof. Pavol Jakubec, PhD. (pavol.jakubec[at]stuba.sk)
Oľga Caletková, PhD. (olga.caletkova[at]stuba.sk)
Synthesis of new antibiotics - Berkeleylactone A
isolated from co-culture of extremophilic bacteria, originating from former copper mine in Berkeley Pit Lake
highly active antibiotic (MIC ca 1-5 mg/mL), e.g. against MRSA (resistant S. Aureus strain)
novel and unknown mode of action
first total synthesis of Berkeleylactone A in cooperation of our group with Oxford University colleagues
high antibacterial against MRSA was confirmed on our synthetic sample
correct structural elucidation of natural berkeleylactone A sample was confirmed by X-ray analysis of our synthetic material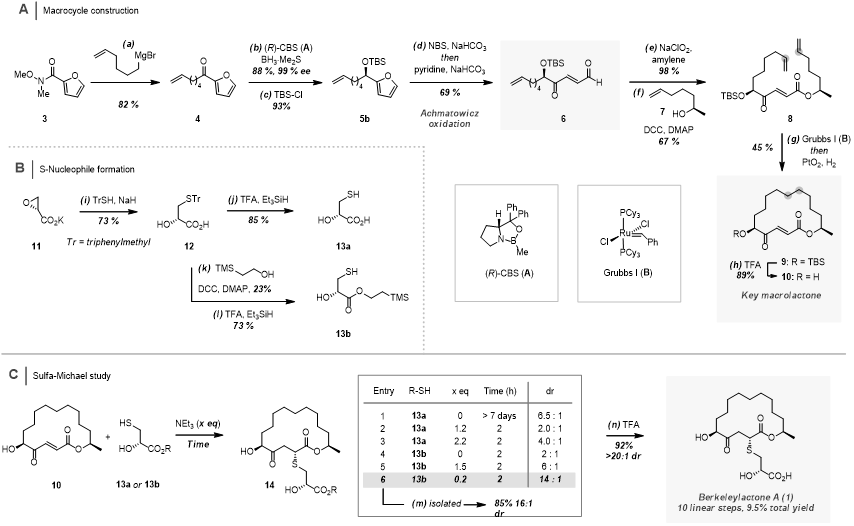 Antimicrobial activity was tested on Staphylococcus aureus CCM 3953 strain, MIC50 [µg/ml], testing was performed by prof. Bujdáková from Commenius University, Bratislava:

Fluorescent tag featured conjugates of berkeleylactone A for study of biological activity in cellular cultures were prepared:

Another aza- and phenyl- substituted berkeleylactone A conjugates were designed and prepared: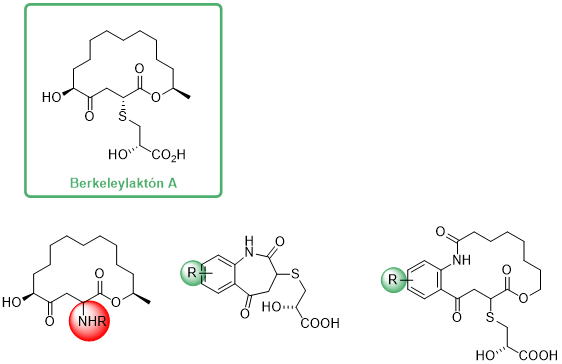 Dual action antibiotics were prepared (metastable conjugates of berkeleylactone with a cefalotin and ciprofloxacin):
Running goals:
sustaining collaboration with biochemists to reveal molecular target and mode of action of berkeleylactones
to identify trully functional and practical antibiotic
to find new students for our synthetic laboratories
Laboratory of fragrant compounds NB A305
deals with synthesis and research of sensoric properties of new fragrant molecules with an application potential.
Contacts:
Assoc. Prof. Peter Szolcsányi, PhD. (peter.szolcsanyi[at]stuba.sk)

Synthesis and properties of new fragrant molecules
The research group is interested in structural design, efficient syntheses and sensoric qualities if new derivatives and un/natural molecules possessing a musk scent. We investigate structure-sensoric parameters relationship to develop better and functional structures for successful application in fragrance industry.

Synthesis and properties of new Helvetolide analogues (Ing. Vladimír Dacho)
The projekt comprises design, synthesis and studies of fragrant features of new Helvetolide analogues. Major drawback of original Helvetolide is elaborative and low yielding synthesis (15% in 3 steps) in combination with two stereogenic centres,
we aim for more efficient synthesis of stereochemically simplified homologues with preserved musky scent.
.

Synthesis and properties of new Sylkolide analogues (Bc. Artëm Nikipelov)
This project concerns design, synthesis and sensoric properties of new Sylkolide derivatives. As major drawback of sylkolides is their chemical instability (74% degradation in 60 days) accompanied with good possibility of E/Z-isomerism in combination with its stereogenic centre, the goal is to prepare geometrically and stereochemically simplified analogues with preserved or even improved scent..

R&D cooperations:
Academic sphere:
Prof. Darren J. Dixon, University of Oxford, UK; Prof. Steven V. Ley, University of Cambridge, UK; Prof. Andrea Vasella, ETH Zürich, CH
Industrial partners:
AUSTRIA JUICE GmbH, AT; Axxence Slovakia Ltd., SK
Laboratory of aza-heterocyclic chemistry NB A402 and A404
is oriented towards synthesis, reactivity, physical, chemical and biological properties of 5- and 6-member aza-heterocycles with their application in material science and human/veterinary medicine.
Contacts:
Prof. Viktor Milata, DrSc. (viktor.milata[at]stuba.sk)
Daniel Végh, DrSc. (daniel.vegh[at]stuba.sk)
Dušan Bortňák, PhD. (dusan.bortnak[at]stuba.sk)
Branislav Pavílek (branislav.pavilek[at]stuba.sk)
Mono-/poly-/perfluorosubstituted 4-quinolones - synthesis and properties
What are 4-quinolones?
What are 4-quinolones?
Antibacterials (e.g. Ciphine)
Cancerostatics (e.g. Gefitinib)
Antimalarics (Chloroquine....COVID 19 !)
Antimycotics (e.g. Clioquinol)
Antivirotics (e.g. Elvitegravir)
Antialzheimerics ( e.g. kynurenic acid)
How we can make them?

Synthesis, syntetic and practical potential of possibly biologically active fyto-(hetero)cyclics
Biologically active compounds
bactericides, antiviroticas
compounds with anti-tumor activity
enzyme and membrane receptor inhibitors
New materials
components for organopolymeric solar cells
organic semiconducting materials
organic field-effect tranzistors (OFET)
organic LED diodes (OLED)
Fluorinated biomarkers
for body structure and in vivo function imaging
Preparation of azo-derivatives of pyrazoles: new molecular motors and switches
molecule sized motors
light driven and powered
new "smart" features
auxiliary controlled drug transfer to exact position
new methods of data storage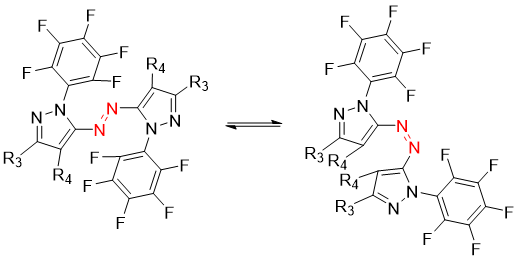 Remote research facility of ÚOChKP FCHPT STU by Saneca Pharmaceuticals, Hlohovec
investigates assymetric reactions in heterogenous phase controlled by crystallisation - crystallisation induced asymmetric syntheses (CIAT) of artificial aminoacids and related derivatives. Design and modifications of lipid metabolism inhibitors. Furthes applications in development of new production processes for generic APIs (active pharmaceutical ingredients).
Contacts:
Assoc. prof. Dušan Berkeš, CSc. (dusan.berkes[at]stuba.sk)